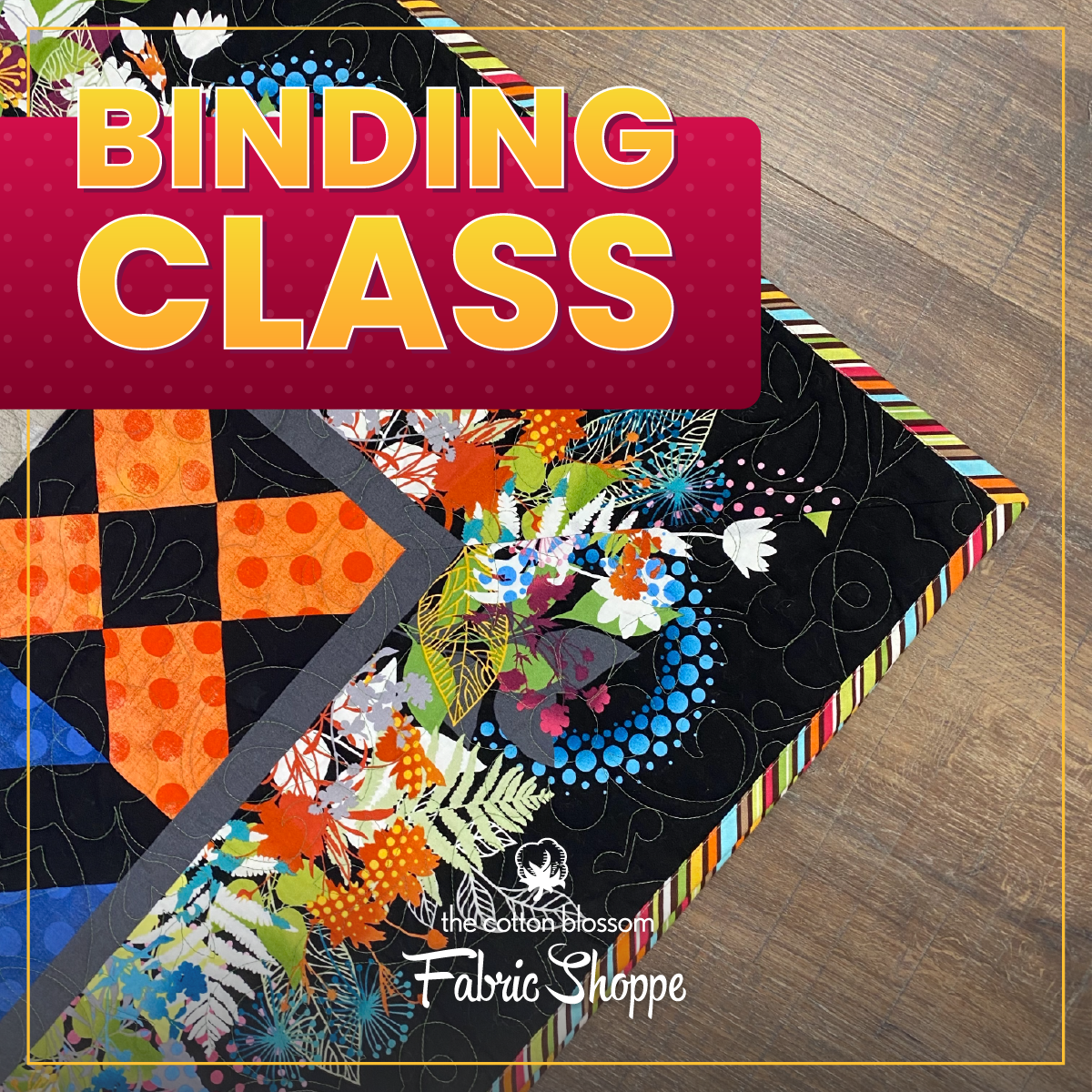 Class: Beautiful Bindings

Class Fee: $45
Skill Level: Medium, some experience suggested

Items needed for class must be purchased from The Cotton Blossom (fabric, patterns, rulers, books, specialty thread, etc.) If you have basic sewing supplies and they are not listed below, please bring those (pins,
scissors, seam ripper, needles, thread, etc.).

Class Description:

"To Quilt is Human, To Finish is Divine" should be our motto as we try to complete our quilting projects. Bindings are the last step and yet some get stuck at this point from a lack of confidence. In class we will learn how to apply and turn a double fold binding with square corners and an easy closure. We will adapt the seam allowance to YOUR machine. Lots of personal attention given here. Tips on how to add flanges, rick-rack and trims will be covered and if time permits, we will show you a little about piping.
* WALKING FOOT REQUIRED!
Be sure to come into the Shoppe ahead of time to pick your fabric and do the pre-class cutting instructions.
Supply List:
1/4" Yard of Quality Quilting Fabric
Sewing Machine in good working order. Please bring manual and power cord.
WALKING FOOT REQUIRED!
Neutral Thread
Size 14 needles for binding
6.5" square ruler
Sharp pins
Marking Pencil (mechanical pencil) or Chalk Liner
Best Press
Pen or Pencil for Taking Notes!
Pre-Class Instructions:
1) Run a bobbin and place new size 14 needle in your machine.
2) Put your Walking Foot onto your machine.
3) Cut three WOF strips 2.5" wide from your quarter yard of fabric.
| | |
| --- | --- |
| Skill Level: | Intermediate |
| Skill Details: | Must have some quilting experience |
| Instructor: | Dorinda Evans |